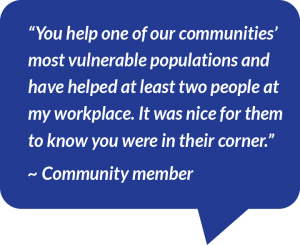 About Us
In 1977, a compassionate, forward-thinking group of women founded Women's Resource Center of Northern Michigan (WRCNM) to address critical unmet needs in the community. Many of the services they defined and created are still being offered, today.
Learn more about WRCNM history.
WRCNM is a dynamic organization that:
Provides many specialized services for adults, children and families to improve their lives
Seeks positive solutions in crisis situations
Protects and nurtures health and well-being
Encourages active participation in making important life decisions
Facilitates personal growth and lifelong learning
Provides a link to community resources
Works to change the culture of violence
Advocates for social justice
WRCNM provides confidential support, advocacy, counseling and the Safe Home to people in Antrim, Charlevoix, Cheboygan, Emmet and Otsego counties.
24-hour help and information line: (231) 347-0082 or (800) 275-1995